Icysoul
Epic Member
Gender: Gender Fluid
Status: Taken
You've entered the home of the Icy demon. Watch your step on the icy slopes.
Rp idea that I am obsessed with:
Soulmates: any kind, from matching tattoos to first words. Just talk to me about an idea and we can do it!
Rules:
Don't ghost me. It's not nice. If you don't want to rp anymore, just tell me. I'll understand.
Tell me if you're gonna be gone for awhile.
Don't be mean to me. I don't need more people who hate me.
I'm here to talk, so shoot me a message.
I'll try to match your length, so don't worry. Just give me something to work with.
Hate me, don't rp with me. Simple.
Choose a character who you'd like to rp with, if you want too.
LGBTQ+ is welcome here!
I don't do just 18+ rps.
Always have a good day.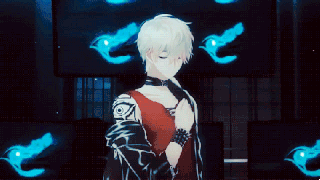 RPs I can do:
BNA (Brand New Animal)
ZOMBIES (1 and 2)
Fruits Basket
Haikyuu!!
Cells at Work
Harbin Hotel
Danplan rp
A Court of Thorns and Roses (the series)
Persona 5
The Disastrous Life of Saiki K
Watchdogs 2
The Maze Runner series
Warriors
Overwatch
Angels of Death
Homestuck
Bendy and the Ink Machine (BATIM)
Star Wars Resistance
Star Wars Rebels
South Park
Superhero
Anti-hero
Super Natural
Stranger Things
Maximum Ride
Vampire Dairies
Twilight
Fairy Tail
Black Butler
Yandere Simulator
Blue Exorcist
Attack on Titan (AOT)
Sword Art Online (SAO)
Ouran High School Host Club (OHSHC)
Creepypasta
The Flash
Supernatural
Hunter X Hunter (HxH)
Left 4 Dead (L4D)
FNAF (Five Nights At Freddy's)
School RP
18+ (MxM, FxF, MxF)
Star Wars
Minecraft (with human Mods)
Legend of Zelda (LoZ)
Descendants
Who am I from My Hero Academia?: I'm Katsuki Bakugou.
Katsuki is a crude, arrogant, short-tempered, and aggressive person, which I can also be time to time.
What Creepypasta am I?: Eyeless Jack
You can't see his true face, you just see this darkness in a pull-up hoodie. And some eye sockets. How does he see? There's too many questions! It's terrifying, the fact that there's that many unknowns!
Who am I in the Supernatural universe: I'm CASTIEL! I'm a literal angel.
Of course in the realm of Supernatural that doesn't necessarily mean I'm a great person. People confuse me, but I care a lot about them. I do everything I to fix the world, but it never seems to turn out quite right, probably because I just can't quite seem to understand the people I'm trying to save.
Despite my mistakes (and boy are they big mistakes), I'm always willing to sacrifice myself to make it better. I'm loyal, kind, and thoughtful in my own way.
Which of my own characters am I most like?; A little bit of me is put into each character, but I'm more like Collin. I'm protective of the ones I love, and I'm willing to do anything for them.
What is my spirit animal?: A dragon.
Rave Reviews
Icysoul... Ah, I love them. Seriously! I do!
There is a lot going on with their characters, and a lot more to surprise you! With the flexibility of them, it can be cause for an infinite amount of different situation for their characters and yours! Icy is a yes in my book, and a great friend to make as well!
- CoyBoat275
This person is an amazing Roleplayer!! They always make sense, try to get back to you as soon as possible, and overall just a joy!!!!
- jay989
Inquiring minds want to know why we too should befriend Icysoul!
Did you remember to explain why your friend is awesome?