Varian
Varian and Cassie PFP By: HoneyBlossom
Varian Banner By: Me
Do not use the pfp nor the banner without my permission.
These were made specifically for me and upsets me if it is used, especially without permission from me.
"No matter how small and niche and insignificant something might seem, the very act of researching, or spending time with, or caring for it imbues it with meaning. To you, and to the people you share it with."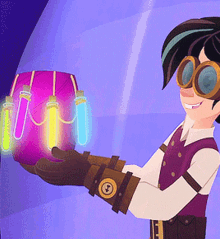 Hey RPR'rs!
I'm Varian-Vee, you can call me Varian or Vee, I don't mind. I'm a idiot who loves Tangled and won't hesitate to ramble about it to you because that's just what I do here, and uh, roleplay, of course. Because that's what this site is for.
Carrd
-
Beyond2000
-
Favorite TTS Episode
-
My Rapunzel
---
---
RP INFORMATION
F𝕣𝕖𝕖𝕗𝕠𝕣𝕞, 𝔸𝕕𝕛𝕦𝕤𝕥𝕒𝕓𝕝𝕖 𝕃𝕖𝕟𝕘𝕥𝕙, 𝟙𝕩𝟙
𝙂𝙚𝙣𝙧𝙚𝙨:

- Victorian

- 1950s

- Solarpunk

(AU or Group RP)

- Post-apocalyptic

(Non-zombie related unless specified otherwise...)

- Superheroes

- Angst/Whump

(Please check my triggers before roleplaying this)





𝙁𝙖𝙣𝙙𝙤𝙢𝙨:

- Tangled: The Series

(Please RP this with me, I beg you--)

- The Umbrella Academy

(TV Adapt.)

- Minions: Rise of Gru

(or anything Despicable Me, really!)

- Five Night's At Freddy's

(Currently just FNAF 1, with slight knowledge of other games' lore)

- Sweet Tooth

(TV Adapt.) (Up to Episode 2)

- Twisted Wonderland

(Up to Book 4 // Chapter 39)

- Artemis Fowl

(Movie Adapt.) (I'm reading the book, I swear I am--)

- Vocaloid (GHOST and Pals, mostly)

- The Mysterious Benedict Society

(Up to Season 1, Episode before Last Episode)

- Atlantis: The Lost Empire

(Haven't watched the sequel, so that isn't included)

- Disney's Hercules

- Disney's Aladdin

(Classic 1992 Movie is preferred)

- Victorian novels

(Such as; "Oliver Twist", "The Secret Garden", "Great Expectations")





𝙏𝙧𝙤𝙥𝙚𝙨:

- Found Family

- One-Sided Pining

(Specifically Varian pining over Cassandra

)

- Battle Butler

(or any unlikely-to-be-bada** profession like that)

- Secretly an Assassin

(similar to the above trope)

- Human/Angel/Demon is friends with a Demon/Human/Angel

- Villain Redemption Arc

- Polar Opposites

(especially siblings omg)

- Quiet Bada**

- Dysfunctional Family

(think Umbrella Academy)

- Potential TW Tropes - - Kidnapped Character must be saved by Other Character
- Poisoned Character has to be taken care of by Other Character
- "You're hurt!"
- Character's wounds are treated by Other Character
- Sickly Victorian Boy
- Dark spins on not-so-dark stories




𝙍𝙪𝙡𝙚𝙨:


- Please try not to ghost me.
- Respect my triggers and I'll respect your triggers.
- If something bothers me, I'll let you know, do the same in-return.
- Follow rules of RP ADs (if I have them open and public)
- OOC does not mean IC
[/size]




𝙏𝙧𝙞𝙜𝙜𝙚𝙧𝙨:


- Emetophobia
- Not being able to breath and/or detailed quick, uncontrollable breathing (This includes the mention of Panic Attacks)





𝙎𝙝𝙞𝙥𝙨:


- Future Cassarian
(Varian x Cassandra // Tangled: The Series)
- New Dream
(Rapunzel x Eugene Fitzherbert // Tangled Franchise)
Rave Reviews
It's always such a joy to talk to Varian.

They're very friendly and encouraging and always have something fun to chat about!
Kind and understanding
Great sense of humor
- Sanne
They're amazing, and though we've only just met recently, I love the plot points vee comes up with for our tangled rp! They have an exceptional sense of humor, and are really fun and nice too. Vee is one person I'll keep roleplaying with for a long time.
Wonderful writer
Fast responses
- Disneyfan23
Inquiring minds want to know why we too should befriend Varian!
Did you remember to explain why your friend is awesome?