Inquiring minds want to know why we too should befriend damnationfromafar!
Did you remember to explain why your friend is awesome?
Want to tell the world what you love about damnationfromafar? You need to log in or join our community, first! It's fast, free and easy.
damnationfromafar













Epic Member
Gender: Female
Age: 21
Birthday: February 17

Saturday, December 15th, 2018
Currently:
SLEEPING - I'll be online possibly after work and groceries.

Lyrics of the day:
I'm sorry but you called at a bad time, and every time's probably gonna be a bad time.
Bad Time, by Sabrina Carpenter
This Weeks RP Response Time:
I am answering as frequently as possible. Most of you who post daily can expect a post every day or two days.
Note:
I leave my phone logged in so when it says I am 'online' I am not online unless my currently says so. If my profile says online but my currently says something else, then I am not online.
About:
Hi, I'm Deirdre, I'm friendly, I'm demisexual and bisexual, but most importantly I'm a creative, and inspired young author who also enjoys storytelling through RP. I joined this website two years ago, and I did take a break for a while but I am back and working on getting new RP's started. I'm currently also writing a original novel to be published hopefully by the beginning of 2019 (check back for a specific date.). I have been writing in general for almost nine years, and RPing for two years this past June!

I spend most of my time writing, watching Good Mythical Morning, chatting at my lovely friends, posting about fictional characters on tumblr, and taking outfit photos for social media. Out of those two things, Writing, and my friends are what I care about the most. I will always stick up for, and do anything I can to help a friend; and I adore chatting for hours about writing and fictional characters. I am always open to new friends, however please PM me before sending me a friend request. I don't accept random friend requests.


As for RP; I generally RP fantasy, historical and modern drama, with romance as a main point, or sub-genre. I am a hopeless romantic (though usually get the short end of the stick on that) and love writing intense and passionate romance. I am a very detailed writer, and am always open to discussing plots. I have tons of ideas, and find the story planning process to be one of the most exciting next to actually getting the story written. I am very friendly, and will let you know if I am unavailable to post, or if I am not enjoying the RP anymore.
Meet Betty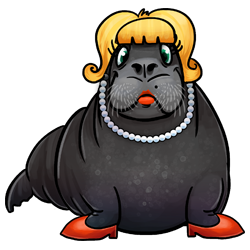 Betty is a very sophisticated walrus that prides herself on her natural elegance and fashion sense. No mucky outdoors life for her! She resides in a mansion of her own design, flopping on velvet lounges and dining on the freshest salmon.

Now if only I could get her to let me move in...
Current number of RP's:
Active:

10
+
Inactive:
6
=
16
I've decided to divide my RPs into two groups. Ones I will reply to everyday, and ones I will reply to twice a week (at least).
Everyday

: 7


Twice a Week:

3
RP Status:

Tentatively Closed. Unless I post on the forum looking for something, I most likely will not be starting any new RPs; but if you have a really good idea, give messaging me a shot and we'll see.
My RP Preferences/Rules.
Romance:
F/M always.
F/F occasionally.
M/M maybe.
Genres/themes:
Modern Romance, always.
Historical Romance, usually.
Fantasy/ Supernatural, occasionally.
Sci-fi, rarely ever, but sometimes.
Drama, action, mystery, angst, always.
Sexual content:
Always. I write sexual content very explicitly, and do not fade to black except in very specific circumstances.
Rules:
I only RP with characters 18+ no exceptions.
OOC is 18+ as well, I am uncomfortable talking to those under 18.
I write minimum of two paragraphs or 250 words, and prefer my partners do the same.
I write almost always at a 10th grade level or higher, and prefer the same, but as long as you are detailed, and keep me interested, I am not the grammar police.
When will I be online posting you ask?
Here is my updated DECEMBER schedule it will change in January
(Eastern Time)
~Usually but Not Constant~
M: Noon to 3pm and 7pm to Midnight.
T: Noon to 3pm and 7pm to 1am.
W:4pm to 6pm and 7pm to 2am.
H: 4pm to 6pm and 7pm to 2am.
F:4pm to 6pm and 9:30pm to 2am.
S:OFF DAY (usually)
S:On and off between noon and midnight.
Note:
During the November and December Holiday season I will not be posting as frequently.
Click here for more about me.
Things I care about!:
I believe in equality of all people of every gender, sexuality, and skin color.
I adore human beings and love is love.
I will not stand for the mistreatment of women or sexism, whether it's aggressive or benevolent. It is harmful in any of its forms.
I cannot stand bullying. I will always stand up to it, even if I am nervous or scared.
I am super passionate about my writing, and am a hopeless romantic who has tossed myself over the cliff and there is no coming back from the pit of mushy passionate stuff I adore writing and plan to share with the world. That's not to say I don't enjoy angst and drama though.
I love kittens, and cats in general. I want a black cat to name Salem.
I am a super body positive chubby babe and want you and everyone to love their bodies and wear whatever you want! All bodies are beautiful and handsome.
Favorite TV shows:/color

Voltron: Legendary Defender
Young & Hungry
Fuller House
The Vampire Diaries
MLP: Friendship is Magic
Sense8
Avatar: The Last Airbender
iZombie
Adventure Time
The Big Bang Theory

Favorite Movies:
Anastasia
Secretary
Zootopia
The Spirit of Christmas
Picture Perfect
Favorite Books:
Sookie Stackhouse Series
Bared to You Series
Pretty much any bodice ripper.