Posted by Kim on March 20, 2021, 12:05pm

The spring masquerade is starting NOW! The RP chat will be open for 6 hours today, and another 6 hours tomorrow. We hope to see a variety of characters, an inclusive atmosphere, and an ever-changing cast to interact with.





We strongly encourage you to make a new, anonymous character to attend with! The setting is modern, in a slightly-alternate reality where masked super heroes exist. You may attend with any of your existing characters if you really want to -- All characters will be required to wear a mask, but that is the only restriction - bring me your super heroes, sidekicks, intrepid reporters and hapless bystanders! All characters are welcome, provided they don't destroy the venue.



When the masquerade is over, the masks come off! Everybody can announce who they played after the masquerade ends, so that you can connect with your newfound friends and disappear down the plot bunny's tunnel to make new stories.

---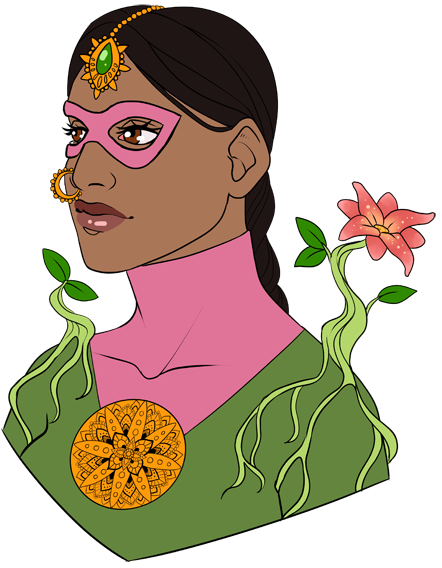 For weeks, the airwaves had been filled with ads. TV spots, radio spots, even a holo-billboard in Times Square. The gist was --

Are you a SUPER problem solver with lots of experience?
Just discovered that you have powers and are afraid to use them without training?
Want to tackle problems too big for one super?
Everyday citizen who has questions about what it means to have a super in YOUR family?
Come to the spring SUPER POWERED OPEN HOUSE for the all new Super Group HQ!!!
(Please wear a mask whether or not you have a secret identity so as to normalize mask-wearing for those who need them for safety)

That morning, many citizens, super and non-super alike, woke to find a package at their doorstep, containing a small wrist-watch with a single button. A tag in the shape of an arrow declared with neon-excitement: "PRESS ME FOR TRANSPORT"

And indeed, the transporters in the newly built Super Group HQ were wide-open and ready to bring visitors from all over the world - perhaps even the multiverse?

Kavita - better known by her super-psuedonym Datura - waited anxiously in the middle of the gleaming chrome lobby, giving her mask one final adjustment. She'd been working for years to make this center for supers a reality, and now, it's finally here. Think of all the difference that could be made in the world!

The real question now was... would anyone come?

The massive lobby is octagonal in shape, with a sky-light dome and a large garden/koi pond built right into the center. The walls flash with high-tech holo displays, boasting information on match-making for super teams, finding the perfect villain or problem for your super-team to tackle, and emergency coping techniques for when your newly manifested powers are just getting to be too much to control.

The western side of the lobby sports two state-of-the-art training bays for testing super powers and honing instincts under safe conditions.

Green, yellow and pink balloons are doing their best to make the space look festive despite how out-of-place they obviously are next to all the high-tech kit.
Comments