Posted by Kim on May 3, 2023, 9:00am

Just a little reminder, the Epic Week contests are ALL still open! You still have time to check them all out!



Dice Roll Tombola
This is the easiest prize you've ever won! Just show up every day and roll a 100 sided die. Big prizes await you! Click here for the rules



Tell a Friend Raffle
You don't need any special skills in order to enter this contest. Just make a social media post or tell a friend about the RPR and be entered to win! Last day to enter: May 7th Click here for complete rules!



Comic Dialogue Contest

Oh no! The dialogue of this comic somehow got erased. Can you come up with the best script? Last day to enter: May 14th Click here for complete rules!



Short Story Contest
The luck of a die roll will assign you a theme or topic, and then you'll write a short story to explore it. Last day to enter: May 21st Click here for complete rules!



Genre Mascot Art Contest
Possibly second only to epic week itself, this is one of the most anticipated events of the entire year! Artists select a genre of RP such as fantasy, sci-fi, or horror, and attempt to design an original character mascot that embodies the essence of that genre. The winners adorn our homepage all year long! Last day to enter: May 29th Click here for the Genre Mascot Art Contest rules.

---
Last Chance at the Party Grab Bag Sale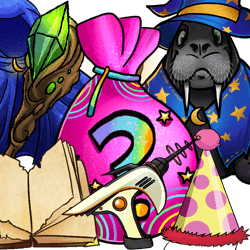 2023's mystery grab bags are still in the shop for a couple more days, and then gone forever. What's in the bag? You might get epicness, a fistful of other items from the store, character slots or page slots, and even limited edition party favors -- all of them in random combinations and in mystery amounts! It could be a little... but it could also be a lot. Try your luck!