One week left to enter the Comic Contest and the Design an Event Contest! Make sure to get your entries in by the 19th.

Comic Contest

Create a comic about life on the RPR, and post it in this topic. All artistic skill levels are quite acceptable. Even if what you're working with is stick figures, you're still highly encouraged to enter!
Click here for complete rules!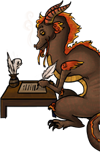 Design an Event Contest

Making new IC connections during Trick or Treat The Forums or the Valentine's Meet Cute - Taking time to appreciate our RP partners in the Festival of Being Excellent to Each other - every few years, we host official Community Discussions on a variety of RP topics - the RPR has many beloved annual events. Now it's your turn to invent a tradition!Click here for complete rules!


And of course, the genre mascot contest is still ongoing!




Genre Mascot Art Contest

Possibly second only to epic week itself, this is one of the most anticipated events of the entire year! Artists select a genre of RP such as fantasy, sci-fi, or horror, and attempt to design an original character mascot that embodies the essence of that genre. The winners adorn our homepage all year long! Click here for the Genre Mascot Art Contest rules.