Posted by Kim on November 28, 2022, 9:00am

You may have already noticed a new system for gallery image warnings that rolled out over the last couple of weeks. I'm very excited to officially announce it today.

Now, when you mark a character or group gallery image as mature/warn before viewing, you will be presented with a little window asking you to select the closest reason as to why the image needs a warning, like this: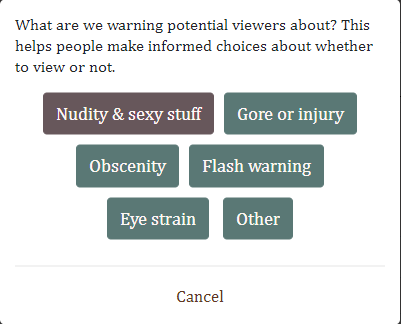 Some of those buttons will open up further options, getting you closer to the ballpark for your warning reason.

If none of them are quite right, you can choose "other" and type in your own reason.

When someone views your gallery, they will get to see the reason you have chosen, and make an informed decision about whether to proceed:





Find certain warnings to be totally unnecessary for you? There's new granular controls for which images will be preceded by a warning for you in your comfort & privacy settings: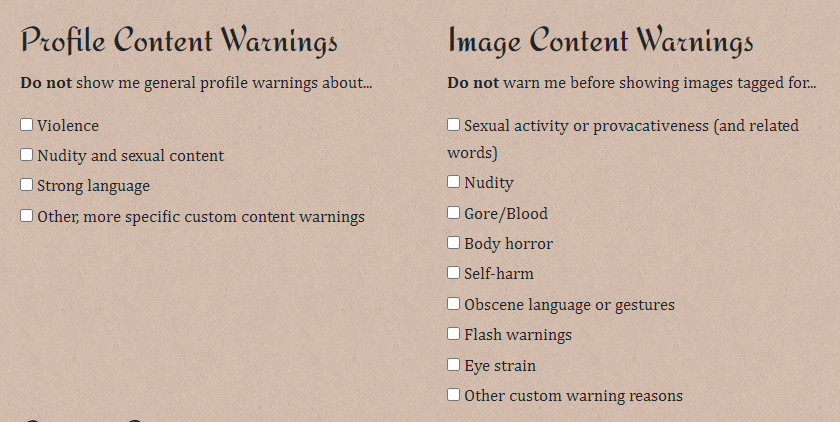 Why was this added?

I view this update as a crucially important fix to a long-standing problem of users not having good control of the media that they see on-site.



There are a few things that REQUIRE a mature flag when uploaded to the gallery.
Sexy bits or female nipples visible
Sexual activity
Gore or fountains of blood
F-bombs or flipping the bird, slurs

People can get in trouble for repeatedly uploading these things without adding the mature tag. But frequently, people choose to be extra careful and flag things as mature that don't strictly require it. Generally, we allow people to be over-cautious with the mature flag if they want to.

Unfortunately, this wide range of reasons for providing a warning creates its own problem.

When a viewer went to a profile and was told, "there is a content warning on this image, do you want to display it?" they would have NO IDEA what they were getting themselves into. They were playing a potentially scary game when they picked yes -- It could be something that really disturbed them, or it could be a sedate scene of a woman in a bathing suit enjoying herself at the beach, or even just a photo of a housecat that was flagged mature for no one knows what reason. This was Bad. It gave people no opportunity to control their media diet/exposure to triggers beyond a sort of legal fig leaf.



Thus, the above Explanations have been created, to try and make viewing images with warnings happen with informed consent as often as possible. The most important part about the explanation is giving a potential viewer enough information that they can make an informed decision about whether the image is, indeed, something they want to view or something they want to pass on.

With this in mind, the mods have been hard at work on an ENORMOUS project of reviewing all images currently on the site that have been flagged as mature, and trying to add a description to every single one of them. We've described gore, we've described pr0n, we've written "Eye contact (potential neurodivergent trigger)" on faces that the uploader flagged as needing a warning, we've even stared in bafflement and then hit "other" and typed in "It's a guitar" so that potential viewers know what they are agreeing to seeing. We're about half-way through the backlog at this point, and still going.
Will users be required to go back and update all their previously uploaded images?
We aren't requiring users to go back and re-tag all their old mature images, though we'd certainly appreciate it! The mods are sifting through the backlog and you may find that we've done it for you already, or in the coming weeks! If you want to save us the trouble by going back and adding your own warning explanation, we'd appreciate the assist, but no one is going to get in trouble for having used the old system as it existed at the time.
I am overwhelmed by the potential warning options, is there a guide?
We've got you!

https://www.rprepository.com/help/guide-to-warn-before-viewing-gallery-image
Other updates
Images with certain warnings will no longer be shown to accounts registered as minors
The list of users you have blocked, as well as the control about whether to see forum posts from them, has been moved off of the Comfort & Privacy settings page, and into its own Settings page titled Block List
An attempt has been made to improve search results in the help center
Post tags: Feature Explanations
Comments