Posted by Kim on April 9, 2021, 9:15am

RP prompts may be complete plot ideas, a single situation, a character, a feeling, a challenge, or even a photo to use as inspiration. Start a new RP to play them out, or use them to add a twist to an existing RP. Modify them, take inspiration from them, or use them as is!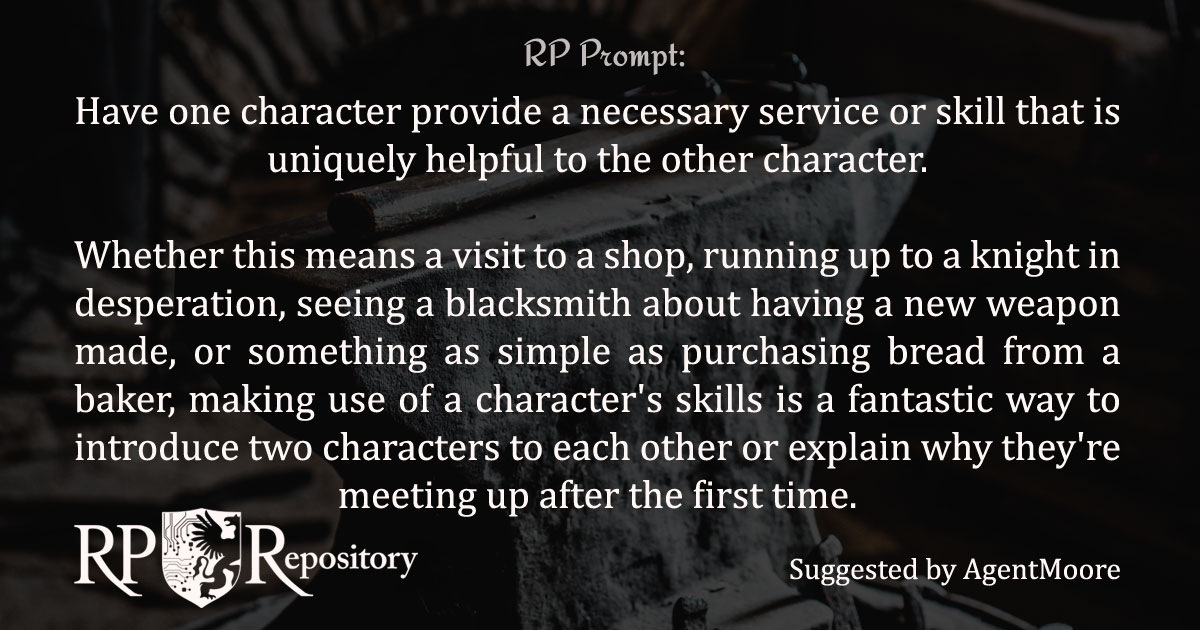 Have one character provide a necessary service or skill that is uniquely helpful to the other character.

Whether this means a visit to a shop, running up to a knight in desperation, seeing a blacksmith about having a new weapon made, or something as simple as purchasing bread from a baker, making use of a character's skills is a fantastic way to introduce two characters to each other or explain why they're meeting up after the first time.

Other examples:
- Approaching a character with massive claws and asking if they can help pick a lock with them
- A hungry character approaches a campfire where food is cooking, the other character looks up from tending the fire
- A character lost in the woods is approached by a creature who lives in the woods and knows the way

-Suggested by AgentMoore

Do you have a suggestion for a RP prompt or plot bunny you'd like to see featured in the news? Send it to Kim -- if it's picked, you'll receive credit for the idea.
Comments