Posted by Kim on December 3, 2021, 12:30pm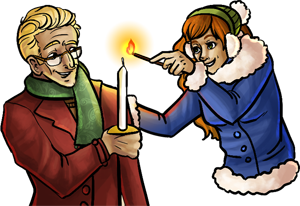 It's here! It's here! The part of the year that we set aside time to appreciate the people around us who make our fantasy - and our real - lives so much better.



RP is impossible without at least one partner, and those partners give us so much of their time, energy, attention, care, creativity and more. We're bringing our gratitude to the fore and letting it bubble over into words of affirmation, to let those special people know that they are seen and appreciated! Want some ideas? Check out our

guide to giving amazing compliments

This year, I'm going to be offering some theme prompts. A different type of excellence each day to reflect on, and appreciate those who have brought it to our lives. It's up to you whether you are most comfortable acknowledging that person in public, via kudos, or in private with a personal inbox message, though of course only the public kudos can be counted toward candle accolades if that's something you're interested in. That said, don't feel limited to only acknowledging that day's excellence theme!



Today's excellence theme to reflect on: Wisdom.

Who in your life has demonstrated wisdom this past year?
Perhaps they gave you great advice just when you needed it.
Perhaps they perceived the root of a problem others were only able to identify the symptoms of, and helped your community to solve it.
Maybe it's someone who wrote a tutorial or essay that opened your eyes to new possibilities.
Perhaps they made a tough choice that didn't impact you directly, but in watching them make it, you learned something important to your own life, or decided to work on conducting yourself differently in similar situations in future based on their example.
If this excellence theme sparks something for you, go tell that person/people how they exemplified wisdom for you this year!


Let them know you care

Part of the tradition of reflecting on how thankful we are to the RP partners of the past year is giving the gift of public recognition!

Write your RP Partners a kudos to tell them how much you appreciate their time, their brilliance, the effort that they put into creating story hooks and plot twists and special moments. Tell your friends how much you've seen them improve and that their hard work has not gone unnoticed. Tell those who were there when you were going through a hard time what a difference it made. It doesn't have to take a long time, but it's sure to mean a lot!




Every five kudos you write this week will earn you a special winter candle accolade to display proudly on your profile, available only during FOBETEO.


Remember, to be eligible, a kudos needs to contain a clear "why" explaining what makes your friend so special! Don't just say "He's awesome!", tell the world what makes your friend so awesome. Click here for the complete kudos guidelines.





Giving kudos anonymously will count, but may cause your accolades to arrive on a random time delay.


Want to literally pay it forward?

If you're feeling moved to charity this FOBETEO season, and in a position that you can afford it, may I suggest looking at ModestNeeds.org?

Modest Needs help to cover an important gap that other assistance programs often overlook, and give a helping hand to folks in the Canada and the US who have just experienced a setback that could see them losing everything. In their own words, their mission is to "responsibly provide short-term financial assistance to individuals and families in temporary crisis who, because they are working and live just above the poverty level, are ineligible for most types of conventional social assistance but who (like many of us) are living one or two lost paychecks away from the kind of financial catastrophe that eventually leads to homelessness"



If you email me (admin@rprepository.com) a receipt or other proof of donation of $5 or more to ModestNeeds.org, I'll send you a small gift on-site as a thank you - fireworks, glitterbombs, profile-decorating flora and fauna, even epicness might be in your randomly chosen gift box.

Post tags: FOBETEO FOBETEO 2021
Comments