Inquiring minds want to know why we too should befriend Sanne!
Did you remember to explain why your friend is awesome?
Want to tell the world what you love about Sanne? You need to log in or join our community, first! It's fast, free and easy.
Sanne
Epic Member
Gender: Female
Away until further notice.
I'm dealing with some health issues at the moment, feel free to PM me but I may not be around for a bit while I get better!
My Knitting Commissions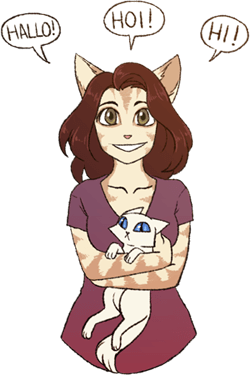 "Consider becoming the type of energy that no matter where you go, or where you are, you always add value to the spaces and lives of those around you."

"Everyone is a genius. But if you judge a fish on its ability to climb a tree, it will live its whole life believing it is stupid."

"Never apologize for having an opinion. Apologize when you're rude about it."
(I have between 55-60 characters on RPR at any given time. However, most of them are anonymous and don't show up on my profile. If you're looking for something specific just ask and I can throw some anon characters your way!)
Hi there! My name is Sanne and I'm addicted to cats and knitting. I'm Dutch and have lived all my life in the Netherlands, although I live an 8 minute walk away from Germany.
I share my apartment with my two cats, a deaf white male and a small tuxedo female. They're my life and treasures and I wouldn't know what to do without them! I currently speak four languages fluently and am studying French.

My favorite musical artists have to be the Daft Punk duo, although I will listen to almost any genre that isn't country or rap. Purple is my favorite color, but the rainbow palette makes it as a close second. I game a lot. No really, I game a lot. I've been in charge of Sanne's Cat Sanctuary since the Great Bug War 2012, but I practice my h4x0rz $k1llz as a Virtual Assistant in my free time.


I knit. A lot. Like a lot lot. It really helps with my health issues and is very fun and engaging. Most of the time I'll be talking about my knitting obsession in the Just Talkin' chat. I am planning on knitting commissions in 2016 (with limited slots) when I have proper samples of most wearable garments, so keep an eye out! I also run a knitting group on RPR called The Yarn Stash which welcomes total newbies and seasoned knitters and crocheters alike.

Sometimes I knit custom items for free giveaways! Keep an eye out on the forums if you want to join any future ones.

In an effort to contribute to charity, I knit cotton breast prostheses with polyester fiber stuffing for women who had single or double mastectomies fighting breastcancer. I make them free of charge for women worldwide, and you are welcome to request a pair for yourself or a breastcancer survivor you know! I also knit these for people of the versatile gender community who identify as feminine (e.g. transwomen), but can't afford the expensive alternatives available to them. I do charge for materials and shipping so I don't go bankrupt, but it is very cheap! Send me a message to learn more.


I also volunteer for the Dutch Diabetes Association by maintaining one of the regional websites, attending meetings and making efforts to organize local events. It's a very rewarding experience that also helps me in my personal experiences with diabetes.

You'll find several templates on RPR that I designed, both official and Epic only. I hope to be making more in the future!

From March 2011 to November 2013 I dedicated myself to the site as a moderator. I had to stop because of my health but the site remains in very capable hands! Even though I'm not a mod anymore, I do have an extensive knowledge of the site and will be happy to assist you.
My inbox is open to questions!

One thing I'm famous for is my accolade collection on the RPR. I have a keen eye for bugs and report them relentlessly to Kim. This resulted in me being the first member on RPR to have gained 100 accolades on February 27th 2013. On March 16th 2015, I reached 200. And on December 3rd 2016 I reached 300! Bug hunting can be fun and super helpful. Want to earn your own fancy trophies? I wrote an article on bug hunting a few years back that can guide you in the right direction!

I finally have my very own Walrus! His name is Mossel. He is very fashionable and likes to wear my handknit sweaters.

Fanart & Gallery of Awesome Things
WALRUSPOCALYPSE
Ross is the apple in my pie
and
Bones is my soulbro
.
Cacophony is my knittah
and
Novalyyn is my sistah
.
JayBird is my schnitzel
and
Jane is my waifu
.


I am the Sith Lord, Darth Sinnice. Bow before me.
Come join the dark side. We have chocolate cake with warm, melted chocolate in its center... Mmm...
Thank you Bonebag!
Thank you Ross!
Thank you Ross!