Posted by Kim on April 28, 2022, 3:36pm

Incredible work, community! You've solved all 7 library puzzles, 9 trivia riddles, completed 4 item collections, and cleared the way of countless monsters. Your efforts have opened the locked doors we found in the mine and let us into what appears to be an entire lost civilization!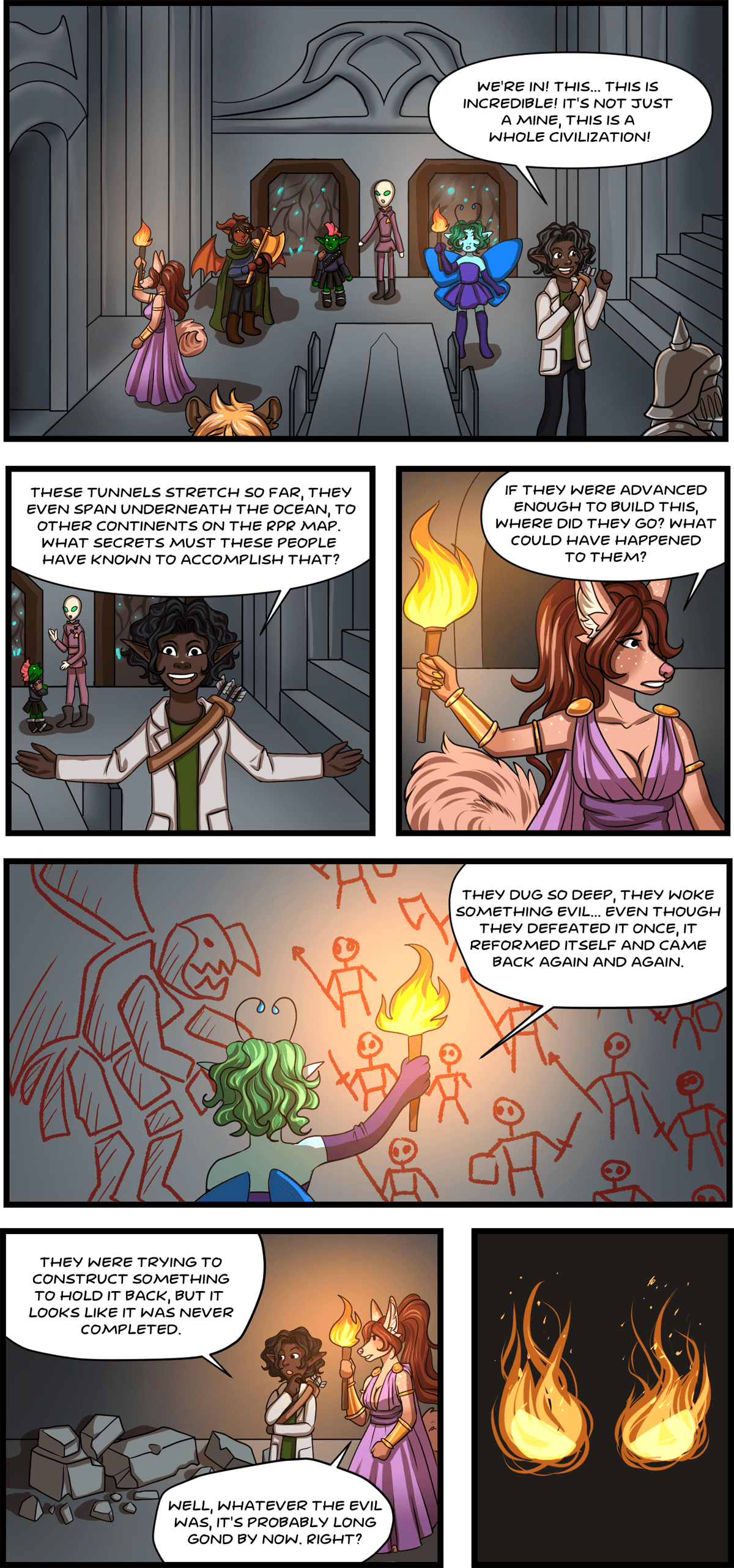 Vision impaired? Read a description of this comic here.
The Elven Scientist and adventurers stand in a massive, dwarven hall. No longer is this rough mines, this is the entrance to a once flourishing civilization. The two gates stand open behind them
Elven Scientist: We're in! This... this is incredible! It's not just a mine, this was a whole civilization!
Panel 2:
Elven Scientist throws her arms wide to encompass the architecture around her. She looks elated.
Elven Scientist: These tunnels stretch so far they even span underneath the ocean, to other continents on the RPR map. What secrets must these people have known to accomplish that?
Panel 3:
Adventurer looks around nervously, holding their torch high.
Adventurer 1: If they were advanced enough to build this... where did they go? What could have happened to them?
Panel 4:
Another adventurer is inspecting a crude mural on the wall, showing a dwarven army in front of a large winged monster in the process of reforming itself.
Adventurer 2: They dug so deep, they woke something evil... even though they defeated it once, it reformed itself and came back again and again.
Panel 5:
The elven scientist stands in front of a ruined obelisk.
Elven Scientist: They were trying to construct something to hold it back, but it looks like it was never completed.
Adventurer 1: Well, whatever the evil was, it's probably long gone by now. Right?
Panel 6:
Fiery eyes open in the darkness.





We find ourselves confronted by a final set of 10 symbols -- 3 collections, 3 library puzzles, and 4 trivia riddles. We've also found a large amount of

new research library material

in this ruined city, that perhaps will tell us what happened to this once thriving place.



Let's get to work.

Hey, does anyone else feel weirdly like they're being... watched down here? I'm sure it's nothing though. Right? ....right?


Post tags: Epic Week 2022
Comments