I'm not entirely sure how to say this. I should have said it sooner, but I was struggling to find the words. I still don't quite have the words to tell you how much you have all meant to me this month, but I've decided to just try to say it anyway.

During The Festival of Being Excellent to Each Other, we had a somewhat... derailing event. A database issue sadly took the spotlight off kudos-sharing and threw me into crisis mode. When the dust settled, the RPR had suffered a tragedy in the form of lost characters, and even some recently-made user accounts.

And yet despite that - BECAUSE of that - this has in many ways been the most magical Festival of Being Excellent to Each Other that I've ever experienced.

It's easy to be Excellent to each other when everything is excellent. It's so much harder when the chips are down, when life is miserable, when you're struggling with your own feelings and don't have endless room to think about the feelings of others.

In the face of loss and let down, when it would have been entirely understandable for people to be angry, snippy, demanding satisfaction -- virtually every single person I spoke to, with thousands feeling the impact, was supportive of me and those around them. You were understanding, kind, caring, offering their help. You offered each other constructive ways to grieve and move forward. You dug information out of your own caches to gift back to one another. We did not have trolls or put-downs, we had resilience. We had the purest form of Excellence. For me, you turned what was a heart-rending disaster into an event that once again renewed my faith in humanity and in our community.

There were some who lost very little, or who were planning to re-do their characters anyway, for whom the impact was very small. And there were others who lost hours and days of work, who were grieving the senseless loss of their own creative sweat, their artwork, their craft, who felt the loss keenly, who had shed tears and lost sleep, who may have felt rage. Every single one of you took the loss in stride, treated me and others with fairness and kindness, validated each other's feelings while working through your own.

I knew we were a great community. Every year I reflect on who we are with pride. And even I was blown away by how Excellent you truly are.

Although the Kudos event normally only lasts a week, this year I've left it open. I'll leave it open until the New Year. It's partly practical, to give people who needed to rebuild their accounts time to participate, but it also just feels right in my heart -- you were all an unbelievable light for me in a dark time this year.

Here's to Being Excellent to Each Other.

Here's to you.

---



Every five kudos you write until the New Year will earn you a special winter candle accolade to display proudly on your profile, available only during FOBETEO.
Remember, to be eligible, a kudos needs to contain a clear "why" explaining what makes your friend so special! Don't just say "He's awesome!", tell the world what makes your friend so awesome. Click here for the complete kudos guidelines.



---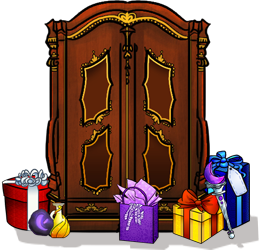 Looking for the perfect holiday gift? Maybe even a little something for yourself?

The limited edition enchanted wardrobes have just returned to the RPR store! These wardrobes contain 4 pieces of clothing, each one magical in its own right.

The most common item that they give is enchanted cloaks of +1 character slots, sometimes in special collector's colors not available in any other way. For just $12.99, you or a friend can get 4 permanent extra character slots... or other prizes of greater value. Get yours now!



This year, there are two more collector's colors: Purple and green! Normal enchanted cloaks are blue - the only way to get the rare collectors' colors is via these enchanted wardrobes.