Posted by Kim on December 23, 2020, 9:00am

It's finally here! Let all your friends know that you're out of town for the week without spamming the forums or needing to write individual PMs.




To post your first status update, go to your own profile and look for this link:





Click "post status" and you'll be presented with a textbox in which you can type your update. Once posted, it'll show up on your profile and in their notifications stream.



Status updates are ephemeral; once you change your status, all old ones are deleted. If you post a "blank" status update, it will remove your current status and set you back to not having one. (Even "deleted" statuses can still be accessed by mods in an emergency, so make sure you are complying with the guidelines for public areas of the site in your status update. Nothing mean or naughty, please!)



Not interested in seeing status updates from your friends? You can adjust your notifications feed like this: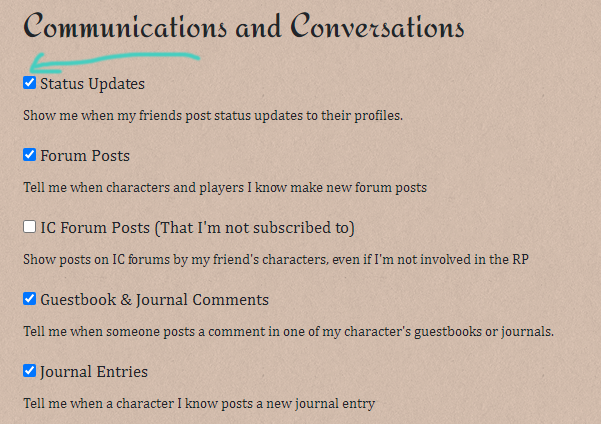 Uncheck "Status updates" on your Personal Notifications Settings page

Are you someone who only plays on anonymous characters and are not sure how user status updates will help you tell your friends you're taking a break from RP? You're right, it won't! You may wish to utilize the character journal feature instead.

Comments